2019 Boyaa Poker Tournament Asia officially kicks off!
Boyaa Interactive announces its 2019 BPT Asia: Competition and fairness at its best! This year's BPT covers many countries and regions in Asia with a guaranteed prize pool of $5 million NTD. Online qualifications tournament will be launched in mid-April!
Online + offline ticketing, multiple entry options
The 2019 BPT Asia Finals will be held from June 28th to July 3rd in Taiwan's largest poker community — Taiwan Chinese Texas Hold'em Poker Association.
Qualifiers will be based on the "online game APP + offline satellite tournament," a two-way ticketing mode to reach the finals. Players from Asian countries can participate by downloading the "Boyaa Texas Hold'em App" and playing the corresponding online tournament. At the end of June, the winners will gather in Taiwan for a final battle!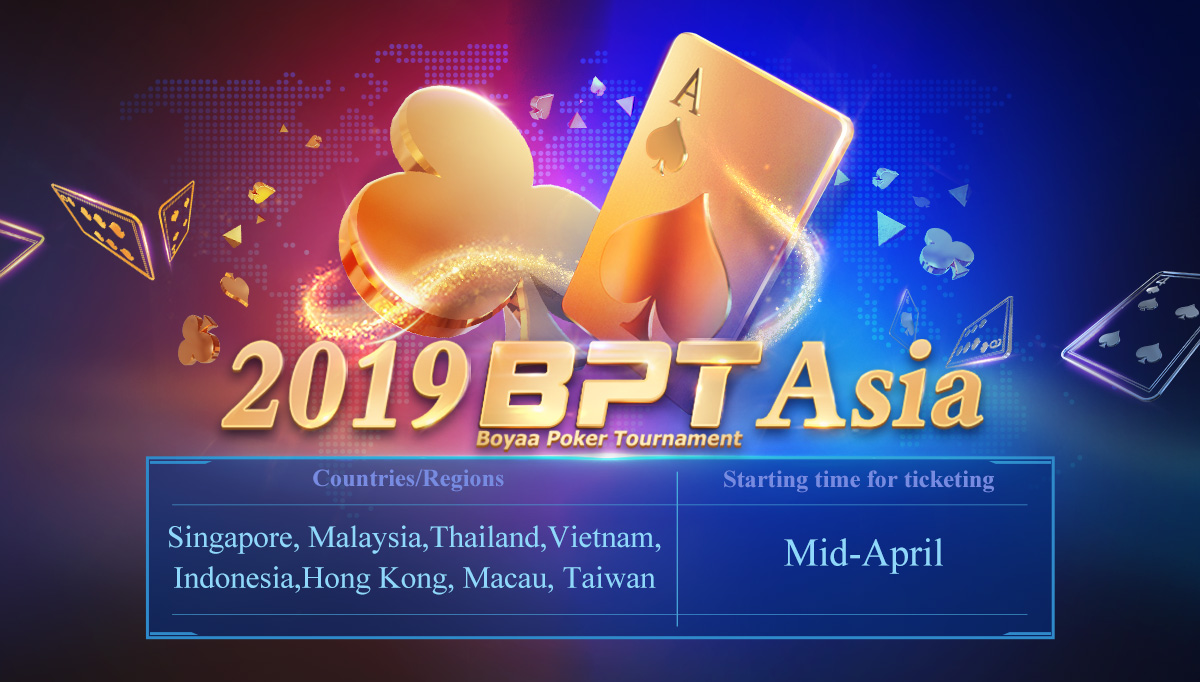 New upgrades and exciting side events!
Once more, Boyaa Interactive keeps innovating and achieving new breaktroughs in the world Texas Poker —always striving to bring the ultimate game experience!
In addition to the awesome main event, this year's BPT will host a variety of side events, all of them packed with all kind of prizes, so that every player can profit from this Texas Poker journey.
A poker festival under the spotlight
The BPT has been successfully held four times since 2015, reaching a cumulative number of players of 20 million worldwide, and becoming a top Texas Hold'em carnival.
The event, which reflects a high competitive spirit and skills, has an extensive international influence and has been covered by the media all over the world for many years.
2019 BPT Let's work together and continue this journey that is becoming a legend. We are waiting for you at the peak of the competition!
For latest news about BPT, please follow the official website and the official Facebook page:
BPT official website: www.bpt.net
BPT fan page: https://www.facebook.com/BoyaaPokerTour/
About Boyaa Interactive
Boyaa Interactive was founded in 2004 and listed on the HK Stock Exchange in 2013, becoming a global online board&card game company. It is also the owner of the popular Boyaa Texas Poker game, which has nearly 300 million registered accounts. Boyaa Poker Tournament ( BPT ) is an annual event that started in 2015 and which, since then, has become the most influential poker event in the Asian region.