David Tai, nicknamed 大雄, is a poker enthusiast from Taoyuan, Taiwan. Surprisingly enough, David started to be interested in Texas Poker only four years ago, but since then he has skillfully used his time and so far has won several Texas Poker awards, including the 2017 BPT Master Challenge (2nd) and the PokerStars Manila Series Championship. In fact, aside from his success playing Poker, he is the CEO of Taiwan's largest poker club (Chinese Texas Hold 'em Poker Club) and an old friend of Boyaa; first collaborating with the Boyaa Taiwan Campus, then the Boya Taiwan Tour and now as a partner of 2019 BPT Asia. Only four years! Kudos to David!
With such record in the world of Poker in so little time, it's no wonder that now pretty much everybody is expecting a great success with this 2019 BPT Asia. And because the BPT online qualifiers are now in full swing, we've invited David for an in-depth interview to explain to us, and our BPT players, more about the Tournament and also the state of Texas Poker: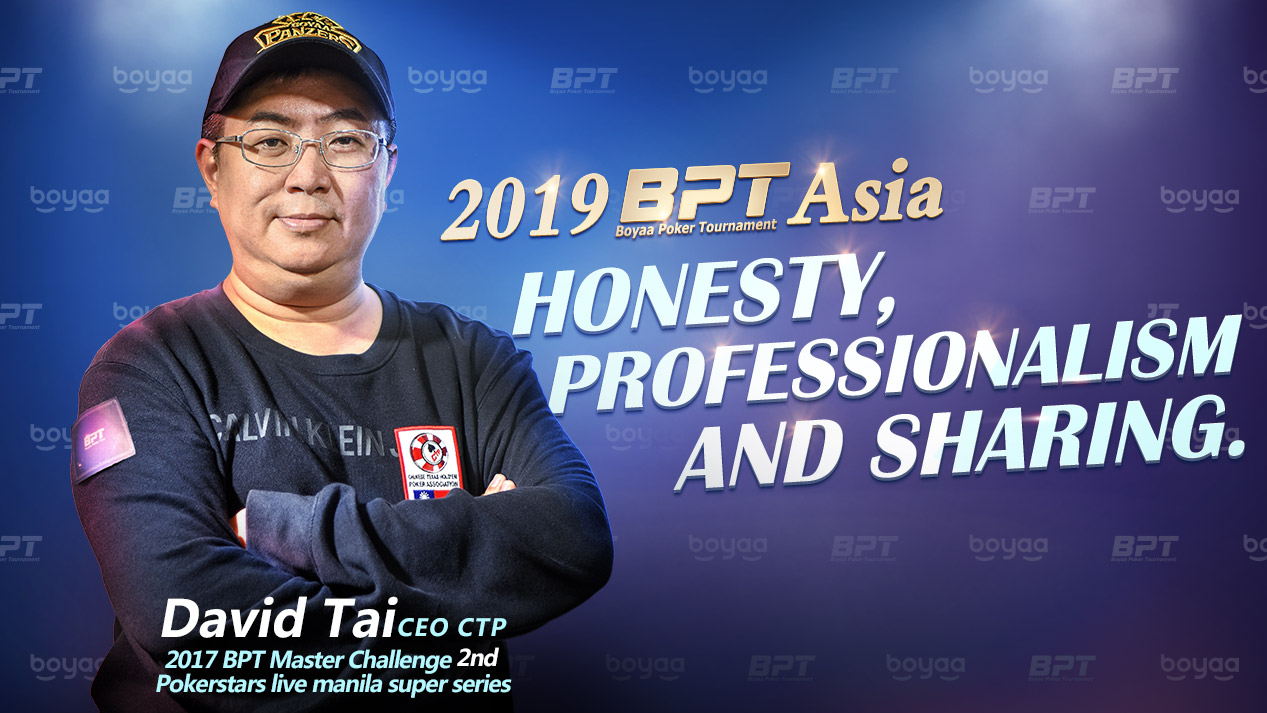 Q: You have helped many people in Taiwan to get to know Texas Poker. What do you think of this profession?
Tai: I really enjoy organizing international events, such as those held by Boyaa, to bring poker players from all over the world to Taiwan. This helps the Taiwanese to be in contact with more players and to play in more tournaments.
Q: You started to contact Texas Poker in 2015. How did you get to know BPT and what do you think of it?
Tai: Actually, I knew about the BPT through the Boyaa game platform. I had several friends that talked to me about going to the BPT in Macau. The first friend that went told me there were a lot of South East Asia and casual players, a lot of fun, so we decided to participate in the second BPT event in Venetian casino. Of course, the experience was also very good and there were many players from Thailand, Vietnam, Hong Kong and Taiwan.

Q: Playing cards requires some skills, how do you improve them?
Tai: Actually, I usually do a lot of online viewing of Texas Poker videos and hand discussions. We have several groups of Texas Poker, so we often talk about poker hands. I also look for some professional players to give me some advice, which is the way that helps me most.
Q: Talking about choosing BPT and collaborating with Chinese people, what are your feelings? Can you share a bit with us?
Tai: Since our first contact with Boyaa until we started to talk about this tournament, I felt the Boyaa Team was very professional. Once we began to examine the venue and the scale of the event, we decided to upgrade it. I think this was an excellent decision, and my impression of Boyaa has always been very good, including past cooperations such as Taiwan Campus Cup and the Taiwan Tour. I hope that Boyaa will give a big step forward with this BPT in Taiwan, so in the future can organize an even bigger event.

Q: Do you have something to talk everybody who joins BPT?
Tai:First of all, I am very much looking forward to meeting players from all over the world coming to Taiwan to play, because Taiwan is really a place that is very suitable for playing tournaments. It has tourism resources, excellent sightseeing, and excellent food. Accommodation and consumption are also very cheap, and another factor is law and order is very good and very human. I think that compared with the Philippines, Macao, and South Korea, Taiwan is the most attractive place to visit and compete. I believe that players from all over the world will enjoy coming to Taiwan.