On October 17, 2020, the 7th Boyaa International Poker Tournament ( referred to as "BPT") organized by Boyaa Interactive came to a successful end. More than 100,000 players from Thailand, Vietnam, Indonesia, Taiwan, Hong Kong, Malaysia and other regions competed online. In the end, the Thai player ยุทธการ แสงสี won the championship and the 250g gold event prize!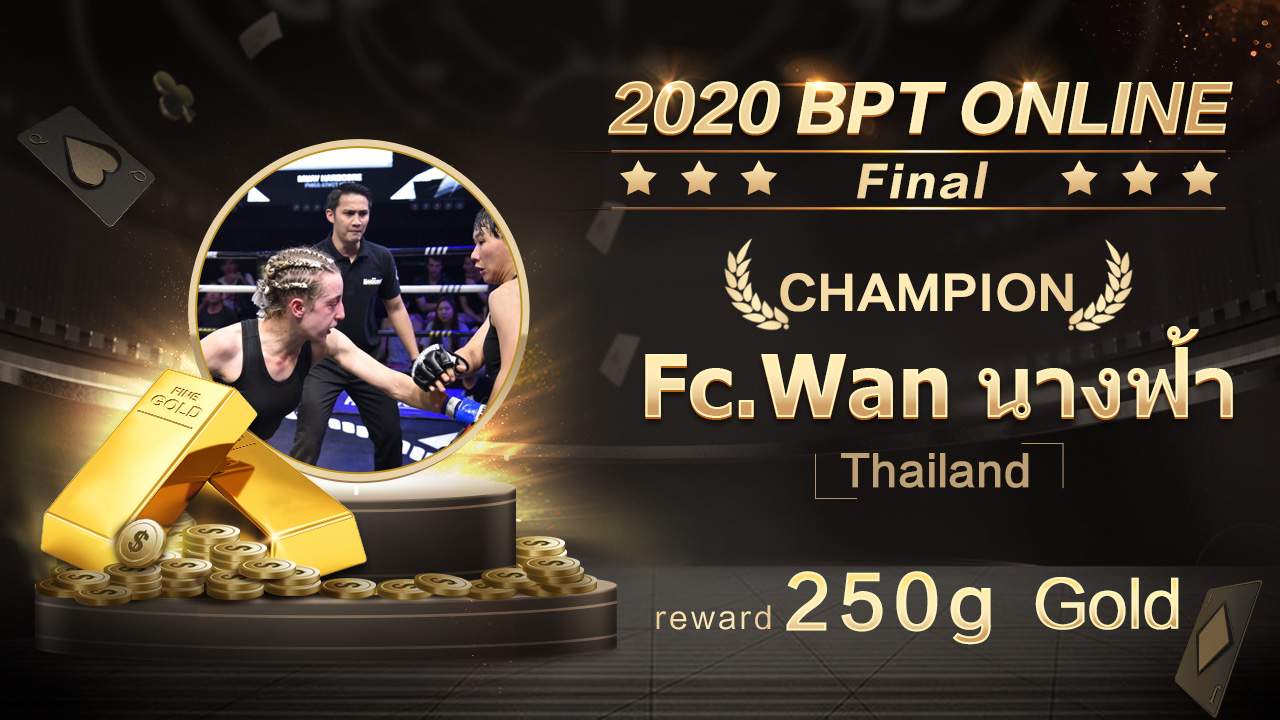 2020 BPT ONLINE Final Champion
At 14:00 on October 17, the 2020 BPT online tournament finals officially kicked-off. After more than 8 hours of poker battle, players from Taiwan (Game ID:我是老二~~) and player from Thailand (Game ID: Fc.Wan นางฟ้า) made it into the final online cross-region heads-up.
In the end, the Thai player (Game ID: Fc.Wan นางฟ้า), who had joined the FT with just 1/9 of his opponent's chips, made a big-time comeback to win the championship and the 250g gold prize! The runner-up Taiwanese player won 150g gold!
The following are the top 9 players of this BPT finals: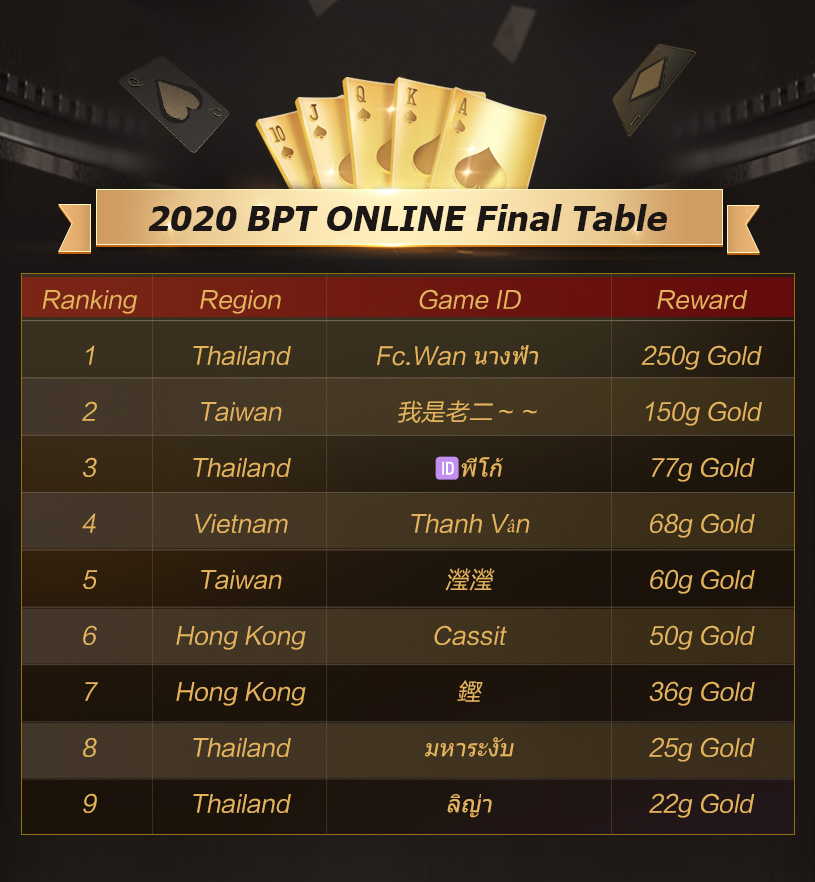 2020 BPT ONLINE Final Top 9
The BPT stays faithful to its roots and continues to be praised
Adhering to the slogan "To Challenge the World," Boyaa Interactive has not forgotten its roots in this 7th edition of the BPT, and against difficulties, has kept providing a platform for young and veteran Texas Poker Players.
The 2020 BPT Online Texas Poker Tournament started at the end of August with daily qualifiers in the Thai, Vietnamese, Indonesian, and Traditional Chinese versions of the Boyaa Texas Poker app. It was a process that lasted until mid-October, with nearly two months of exciting qualifiers. A total of 150 players won tickets to the finals to compete for a prize pool worth 738g of gold, 21 phones, and a massive amount of poker chips.
The BPT online finals have turned out to be as enjoyable as its former offline version. The tournament was set up professionally, aiming to make all BPT fans enjoy the intensity of a regular Texas Poker tournament, but this time entirely online. The bet paid off. In the end, it was as interesting as its offline version, with players expressing their satisfaction for competing against people from different countries and regions, this time, though, without leaving home.
As a well-known Texas Poker brand in Southeast Asia, BPT has done its best to live up to expectations and support its Boyaa Texas Poker app. And of course, we look forward to the next BPT!