BPT qualification finally has been released on August 15th.Now poker players and fans of Boyaa poker from all over the world will have chance to compete in Boyaa Poker Tour which will be held by Boyaa Interactive in Macao on 22nd - 24th October this year.
Stunning prizes!
Boyaa Poker Tour and other marquee events will appear with a massive prize in combined guaranteed prizes. The tournament has great structured, luxury bonuses, and fact that players will be able compete in high level environment will bring global, enjoyable carnival of poker.
To challenge the world!
BPT will cover dozen countries, with 5 divisions: China Mainland, HK-Taiwan, South East Asia, Europe and Middle East. From August 15th players can enter qualification process in game. Challenge the world with Boyaa Poker Tour!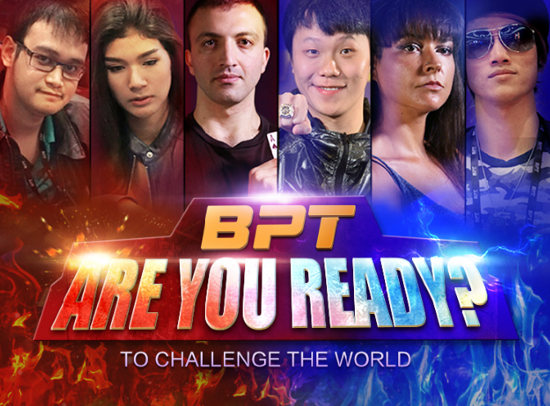 Ticket online - win invitation!
To get BPT access players should log in Boyaa Poker Texas game (iOS/Android/PC) and take part in qualification tournaments. The best 300 players will receive BPT Macao invitation.
Brilliant, international poker event!
Boyaa Poker Tour is an international poker competition held and sponsored by Boyaa Interactive Company. First tournament BPT was successfully released in September 25-27th 2015 in Macao. From 2.2 million players from all over the world who crossed qualification 300 top best were a part of this well organized and remarkable tournament experience. Main prize 880,000 HKD and international championship went to China Mainland participant.
This year once again Boyaa has pleasure to invite all poker lovers to join second edition. October 22th – 24th BPT will hit once again, the same place but with new power and splendor. More competitive and hotter! Make your dreams come true!
Join Boyaa Poker Tour 2016! Challenge the world! Compete with best poker players! We are waiting for you! Go All in !
Company Introduction
Boyaa Interactive founded in 2013 is a leading online game developer and operator. With its dedicated spirit and unique innovative design, through independent research and development also smart multi-platform operation, Boyaa Interactive has generated more than 40 online games, most of which are long-lifespan, classic card and board games, such as Taxas Hold'em, Fight the landlord, Boyaa Card Games (Smart TV game) and Sichuan Mahjong. Boyaa games in total have more than 600 million registered users, locating exceeds 100 countries and regions with 17 languages.